| | |
| --- | --- |
| The Ship of Dreams | R.M.S. Titanic |
Titanic is the winner of 11 academy awards and has proven to be "unsinkable" by bringing in a record well over $1-billion worldwide. I enjoyed the movie, I went to see it again 'n' again, not only for the love story, but to see the Titanic afloat again!
My fascination with Titanic began after I saw James Cameron's "Titanic : The Motion Picture". It depicts outstandingly the Intensity of love, Catastrophes of the forces of Nature, & above all the Commitment of the Officers on-board. The music & the movie are surely worth the million dollars.
And as I learn more about the real Titanic & how incredible it was, I'm all the more convinced that it was really "The Ship of Dreams". Also, I had a query in the corner of my mind that how did Titanic sink inspite of being addressed as "The Unsinkable Ship". I guess after going throu' the history of this great liner, I'm convinced that really "The R.M.S. Titanic" had bowed down to fate.

---
---
Thomas Andrews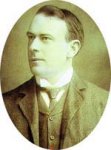 Architect : R.M.S. Titanic
My Thomas Andrews Page!

---

Titanic
Winner of 11 Academy awards
---
I'd appreciate you taking a few moments off to drop for some feedback
with your views & suggestions to help me improve on my effort.
---
| | | |
| --- | --- | --- |
| Hosted since 04th June, 1998 | All Text © 1998-1999 Punit | Updated on 01st Jan' 2000 |
TITANIC TM © Paramount Pictures & Twentieth Century Fox
"Take her to the Sea, Mr. Murdoch" Tune © Sony Music Entertainment Inc.